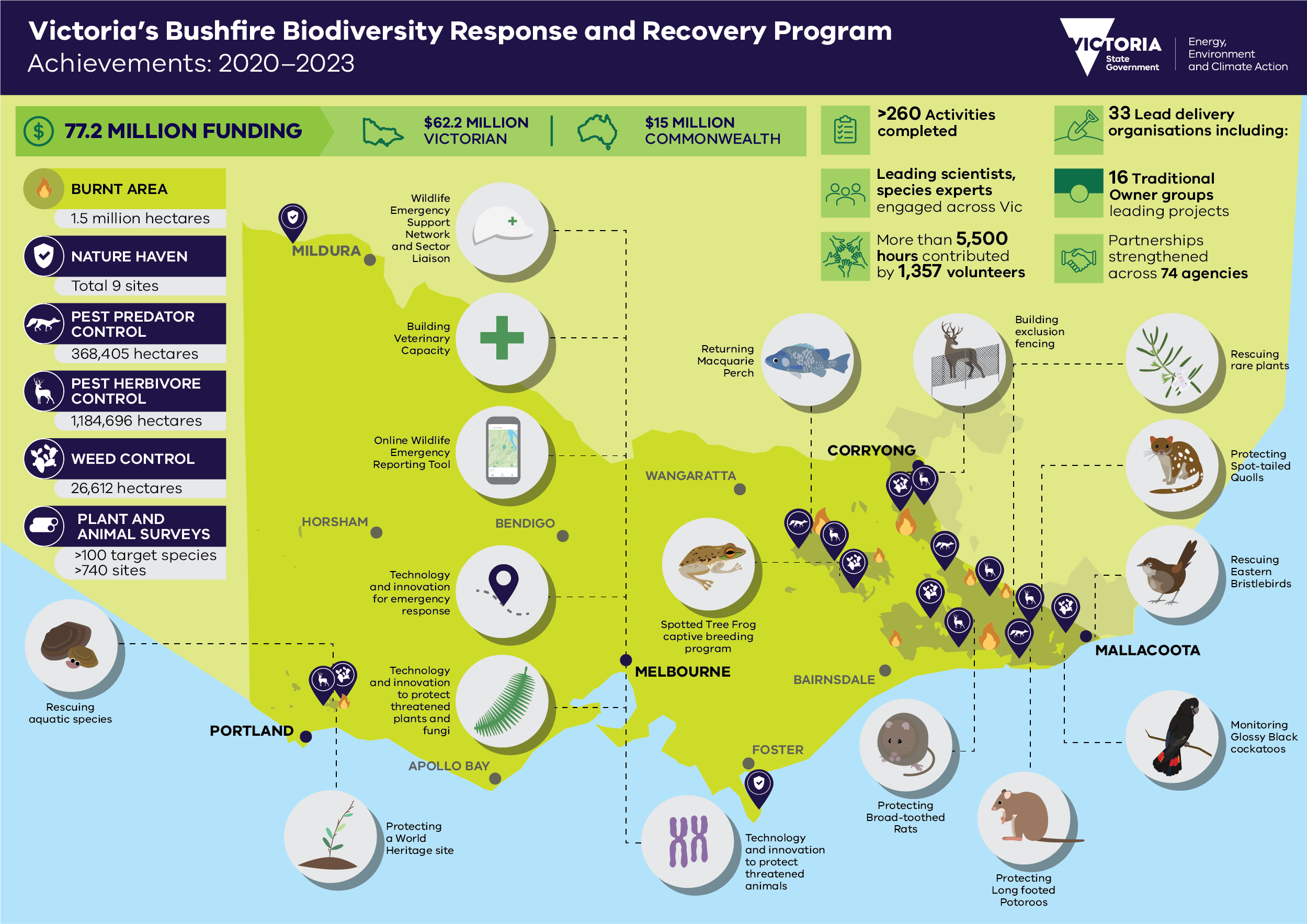 Bushfire Biodiversity Response and Recovery program
The Victorian Government provided $54.5 million for the Bushfire Biodiversity Response and Recovery (BBRR) program to support Victoria's bushfire impacted wildlife and biodiversity.
This was supported by $15 million from the Australian Government bushfire recovery package for wildlife and their habitat.
The Victorian Government also contributed $7.7 million to re-seed Alpine and Mountain Ash Forests as part of the broader bushfire recovery program.
Guided by initial and subsequent reports, DEECA worked alongside species experts, academics and land managers to prioritise actions for fire-affected threatened species and habitats.
This formed an overarching, multi-year program of initiatives across four phases:
Emergency response actions (while the fire was active)
Phase 1: Immediate and short-term actions (up to 1 year)
Phase 2: Medium-term action (1-3 years)
Phase 3: Longer-term actions (beyond 3 years)
DEECA worked closely with partner agencies, Traditional Owners and non-government organisations to coordinate and support actions to help the protection and recovery of Victoria's flora, fauna and habitats impacted by the 2019-20 fires.
The BBRR program delivered actions across a range of themes and focus areas from 2020 to 2023.
Themes
Achievements
Returning Macquarie perch

Macquarie perch translocated to improve genetic diversity in areas where fire had severe effects on remaining populations.

Woody weed control underway in key habitat areas will further help the recovery of this species.

Spotted Tree Frog captive breeding program

Post fire surveys indicated that key populations were reduced.

Captive breeding program established at Zoos Victoria to help bolster wild populations and prevent extinction.

New breeding program for spotted tree frogs

Protecting broad-toothed rats

Ongoing landscape-scale actions including introduced herbivore and predator control implemented across species distribution.

Investigations into technology and scientific innovation to help bring this species back from the brink.

Monitoring glossy black-cockatoos

Mapping and protection of surviving black she-oak trees, their only food source, to help them recover.

Rescuing eastern bristlebirds

Small insurance population evacuated as fire approached the last remaining population in Victoria.

Housed by Zoos Victoria and returned in 2020.

Artificial Intelligence developed to identify eastern bristlebird calls to help track populations.

Translocation of birds to secure a second population in Victoria.

Protecting long-footed potoroos

The Southern Ark and Barry Mountains fox control programs have expanded to deliver an additional 207,000 hectares of control, providing greater protection to long-footed potoroo populations from the threat of fox predation.

New sightings outside their known range are a sign of hope for their recovery.

Protecting spot-tailed quolls

Ongoing landscape-scale actions to support recovery, including control of introduced herbivores and predators across their range.

Investigations into species translocation and scientific innovation to bolster Victorian populations.

Rescuing aquatic species

11 threatened aquatic species evacuated from fire affected areas where ash and sedimentation were an ongoing threat to water quality.

More than 600 individual animals safely housed in aquaria at the Arthur Rylah Institute for environmental research and returned later in 2020.

Rescuing threatened aquatic species after the East Gippsland bushfires

Rescuing rare plants

108 threatened plants species located and 105 collected and stored in the Victorian Conservation Seed Bank or living collection as insurance in the event of future environmental disaster.

Seed collection to safeguard threatened plants

The large-scale operation cultivating rare plants - Gardening Australia

Technology and innovation to protect threatened plants and fungi

New technology acquired at Royal Botanic Gardens Victoria to:

Store propagation material for fungi and ferns – an Australian first

X-ray and study seeds and their germination requirements.

Surveying plant and animal populations

Specialist Rapid Risk Assessment teams deployed immediately post fire to inform emergency recovery actions.

Since 2020, more than 160 species of concern assessed in the field across more than 740 sites, to help inform medium- and long-term recovery actions.

Bushfire recovery surveys for plants and wildlife

Building exclusion fencing

31 hectares of exclusion fencing constructed, enabling the successful recovery of threatened and important species such as the Shelley leek orchid - found nowhere else in the world.

Controlling introduced herbivores

Large-scale control program targeting deer, feral pigs and feral goats to protect threatened plants and animals at-risk from the impacts of grazing, trampling and wallowing.

Sustained control is expected to benefit more than 690 native plant and animal species including the threatened brush-tailed rock wallaby, alpine she-oak skink, eastern bristlebird, Betka bottlebrush and Snowy River westringia.

Coordinated and integrated management over 565,000 hectares to reduce introduced herbivore numbers in areas of high biodiversity value.

Key management actions include:

Victorian aerial shooting program

Victoria's largest ever coordinated on-ground shooting program

Landscape scale baiting and trapping of feral pigs

Exclusion fencing to protect critical habitats from introduced herbivores

Controlling introduced predators

Landscape-scale fox control to reduce the impact of predation and competition on threatened species recovering from fire.

Management of more than 207,000 hectares of high priority habitats with a particular focus on the protection of critical weight range mammals such as the long-footed potoroo, long-nosed potoroo, spot-tailed quoll, southern-brown bandicoot, long-nosed bandicoot and brush-tailed rock wallaby.

Key predator control activities include:

Expansion of the Southern Ark fox baiting program across East Gippsland

Expansion of the Barry Mountains fox baiting program in North-East Victoria

Establishment of fox baiting within Lake Tyers State Park and Alpine National Park (East Alps).

Feral cat management program within East Gippsland and the Victorian Alps to address critical knowledge gaps and increase management effectiveness for feral cat control.

Controlling weeds

The risk of weed invasion increases dramatically after fires, leading to new or more severe infestations that reduce the ability for native plants and animals to recover.

Management of more than 17,000 hectares in high priority habitats to protect threatened plants and important plant communities such as Alpine Bogs and Coastal Rainforest Areas.

Control of the high-threat ox-eye daisy within the Victorian Alps to stop widespread establishment and spread

Development of a 5-year strategy to control high threat weeds across East Gippsland as part of the Far East Eden

Updating weed control models within DEECA conservation planning tool Strategic Management Prospects (SMP) for improved biodiversity outcomes.

Protecting a World Heritage site

An integrated invasive species control program is being delivered across the Budj Bim World Heritage Landscape to protect important environmental and cultural values such as Manna gum trees and the extensive 6,600 year old aquaculture system.

Strong partnerships with Traditional Owners and stakeholder engagement are integral to ensuring the program's success.

Healing Country

Empowering 10 Traditional Owner groups in fire affected areas to heal Country through self-determination.

Spirit and threat management officer roles funded across the state.

"We're out taking the lead, getting to know the Country" - provided quote

People power

Participation of approximately 1,357 volunteers who provided over 5,500 hours to delivery of the program.

Wildlife Emergency Support Network and Sector Liaison

Appointed the Wildlife Welfare Sector Liaisons and established the Wildlife Emergency Support Network.

Owl in a day's work at a Wildlife Triage Unit

Together for wildlife

Wildlife Welfare Communications Group: DEECA, Zoos Victoria, Wildlife Victoria, Australian Veterinary Association (AVA), International Fund for Animal Welfare (IFAW), University of Melbourne, RSPCA Victoria and the Conservation Regulator are "Together for Wildlife" producing and sharing joint communications messaging about wildlife welfare.

Technology and innovation for emergency response

Fire impacts modelled for 4,200 species to help determine where to focus our recovery actions.

Biodiversity risk dataset developed to help inform emergency management.

Technology and innovation to protect threatened animals

Expert scientists at Museums Victoria are investigating the capacity for frozen storage of reproductive material from threatened species in Victoria.

Building Veterinary Capacity

Training program for veterinary staff in wildlife triage units, regional veterinary outreach program.

Online Wildlife Emergency Reporting Tool

Allows members of the public to report injured wildlife to DEECA during fire events. Recording system for DEECA response teams.

Nature led community recovery

Community events held for fire affected communities across the state, featuring presentations and tours by expert bushfire and biodiversity scientists.
Reports

Page last updated: 30/06/23