Wildlife impacted by fire
The Department of Energy, Environment and Climate Action (DEECA) is the lead agency responsible for managing wildlife impacted by fire in accordance with the Victorian Response Plan for Wildlife Impacted by Fire . The Response Plan has been reviewed and updated in consultation with the wildlife welfare sector in response to the 2019-20 bushfire season.
Wildlife in areas impacted by fire can be disoriented, smoke-affected and dehydrated. Some may also be suffering from burns and other injuries. Following a fire, it is expected that injured and uninjured wildlife will be seen moving through and near the fire ground.
Members of the public are urged to take care if attempting to help injured or distressed animals outside of the fire area. Improper rescue techniques by untrained or inexperienced persons can cause further distress or injury to the animal and put the rescuer at risk. Motorists should watch out for displaced animals along roadsides.
During a fire, the Incident Controller will determine if a wildlife response is required. Fire grounds are dangerous, even after the fire front has passed. Individuals, wildlife rescue and rehabilitation groups must not self-deploy to search for wildlife.
Victorian Response Plan for Wildlife Impacted by Fire
The purpose of the Victorian Response Plan for Wildlife Impacted by Fire (the Plan) is to define how DEECA, its partner agencies, contractors and volunteers will respond to wildlife welfare arising from fire. The Plan also defines how this will occur under Victoria's
emergency management arrangements.
Victorian Response Plan for Wildlife Impacted by Fire (PDF)
Victorian Response Plan for Wildlife Impacted by Fire (DOC)
Testing the Response Plan
On Tuesday the 22nd of December 2020, Shepherd Consulting Services Pty Ltd conducted a 'Deep Impact' exercise on behalf of DEECA to test the application of the revised Response Plan. Details and outcomes of this exercise can be found here.
Working together with the wildlife welfare sector
We are committed to delivering evidence-based improvements to our standards and processes, enhanced communication and public engagement and establish better ways of working across the wildlife welfare sector. Further information on how we are working with the wildlife sector can be found here.
Reporting of injured wildlife during fires
Members of the public who come across injured or displaced wildlife due to fire can report these animals directly to DELWP via the Wildlife Emergency app or by phone
Method
Details
App
Phone

DEECA on 136 186
Wildlife Victoria on 03 8400 7300
Fire IMT via 1300 number (established by the IMT and used in locally)
Wildlife Emergency app
The Wildlife Emergency app provides a straightforward way to report wildlife impacted by fire in Victoria to DEECA. The app allows members of the public to submit reports over the fire season by providing basic information on location, suspected injury and species identified in addition to adding photographs (if appropriate). If your device is not connected to the internet, you can still create a report and will be prompted to submit it when your device has an internet connection.
The Wildlife Emergency App can be download from Google Play or Apple Store.
Please take care when you are near injured or distressed animals. Approaching them or improper capture and handling techniques can cause further distress or injury to both yourself and wildlife.

For all other issues related to injured wildlife outside a fire or other emergency can be reported to an authorised local wildlife carer, rescue group or Wildlife Victoria.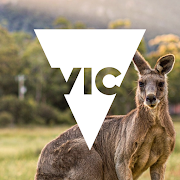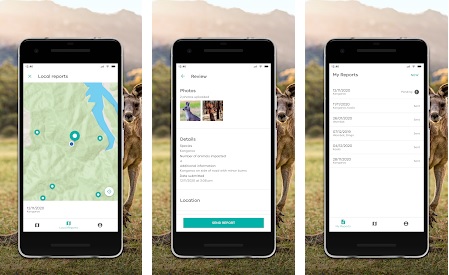 Water and food for wildlife
Provision of water
Wildlife may seek alternative water sources following a fire. This includes freshwater containers, tanks, troughs and backyard pools.
Water for wildlife should be delivered in a bowl or container that they can freely access. Large containers, pools and tanks should be equipped with branches and draped with hessian or fabric on the edge to ensure animals can climb out if they fall in.
The provision of water via drinking bottles can be dangerous for animals and result in fluid entering the animal's lungs. To avoid unnecessary harm, water must be poured into a bowl or other suitable container. This should be left near the animal to allow it to drink at will.
Provision of food
Feeding of wildlife is generally not recommended as it can cause a range of issues for the existing and recovering environment, wildlife and community members, including:
wildlife becoming dependent on people for food and not dispersing away from fire-affected areas or undertaking normal foraging behaviours
dietary deficiencies or harmful foods impacting animal welfare
transferring disease between wildlife
creating weed problems from unsterilised feed
attracting predators and pests to feeding sites, resulting in negative impacts on wildlife through predation and competition for resources
favouring aggressive species or individuals leading to unnatural densities and disadvantaging threatened species
wildlife becoming a nuisance and acting aggressively towards people to obtain food.
For these reasons, members of the public should not undertake the supplementary feeding of wildlife.
Supplementary feeding will rarely be undertaken post fire. If it occurs, it will be a targeted program focused on specific and localised species.
The need for targeted feeding for specific species will be based on intelligence from the fireground, consultation with wildlife specialists and scientific advice. The appropriate food required for supplementation, method of delivery and duration of the program will be monitored to measure its effectiveness.
Donations
During wildlife emergency events, response agencies, wildlife organisations and individuals receive offers of donations to assist the response. While these offers are appreciated and come from the community's desire to assist and help impacted wildlife, the type of donation can be advantageous or detrimental to the response efforts. Members of the public are advised to consider the type of donation you wish to pursue as it can inadvertently redirect resources away from critical wildlife response activities.
Material donations
Material donations are often problematic for response agencies. Previous events have shown that unsolicited material donations divert significant human resources to sorting, transporting and storing materials. In addition, many donated goods are often unsuitable for the response and may need to be disposed of. This can include homemade equipment such as joey pouches.
All equipment and resources required to assess and care for injured wildlife in the field and at triage units are sourced and managed by the Incident Management Teams through standard incident response arrangements.
Medical donations
Over the 2019/20 fire season, numerous veterinary supply companies offered a range of donations of both drugs and equipment. It was identified that in some cases this led to a shortage in the availability of some drugs in the marketplace, as well as the frequent donation of unsuitable drugs and equipment for wildlife veterinary response activities.
DEECA will engage with the key veterinary supply companies prior to each season to discuss potential needs and purchase appropriate medication and supplies. Donations of out of date medical and first aid supplies from the wider community will not be accepted as they are unlikely to be suitable for use on wildlife and redirect human resources away from critical wildlife response activities.
Financial donations
The most effective way to support communities during fires and to undertake recovery activities is through financial donations. There are a range of organisations and options who receive financial donations from bank-led appeals to targeted fundraising campaigns by not-for-profit organisations, wildlife welfare groups or individuals.
How to donate and what to consider
Members of the community should research options, including who the recipient of the donation will be and how donations will be spent. Further information on donating can be found on the consumer advocacy group CHOICE website.
Unfortunately, during emergency events, charity scams can be established under the guise of raising money to support emergency support activities, relief or recovery. Consumer Affairs Victoria has developed guidance to assist members of the public to donate safely and avoid charity scams. This information can be found at here.
Seeking donations
Individuals or groups who wish to raise money via community-based or online appeals must ensure they understand the legal obligations that arise from this type of activity and ensure they comply with the Fundraising Act 1998. Further information can be found on the Consumer Affairs website.
Page last updated: 24/04/23