Koalas in Victoria
Koalas are widespread throughout eucalypt woodlands and forests in lowland Victoria. Compared to northern Australian states where koala numbers are declining, Victoria has a large and thriving koala population. In some areas of the state, koalas can occur at very high densities and can over-browse the habitat and cause widespread defoliation of preferred food trees.
Management of koalas in Victoria has been an active and evolving process for more than 95 years. The 2004 Koala Management Strategy sets out a range of priority actions to ensure Victoria's koala population is healthy and sustainable over the long term.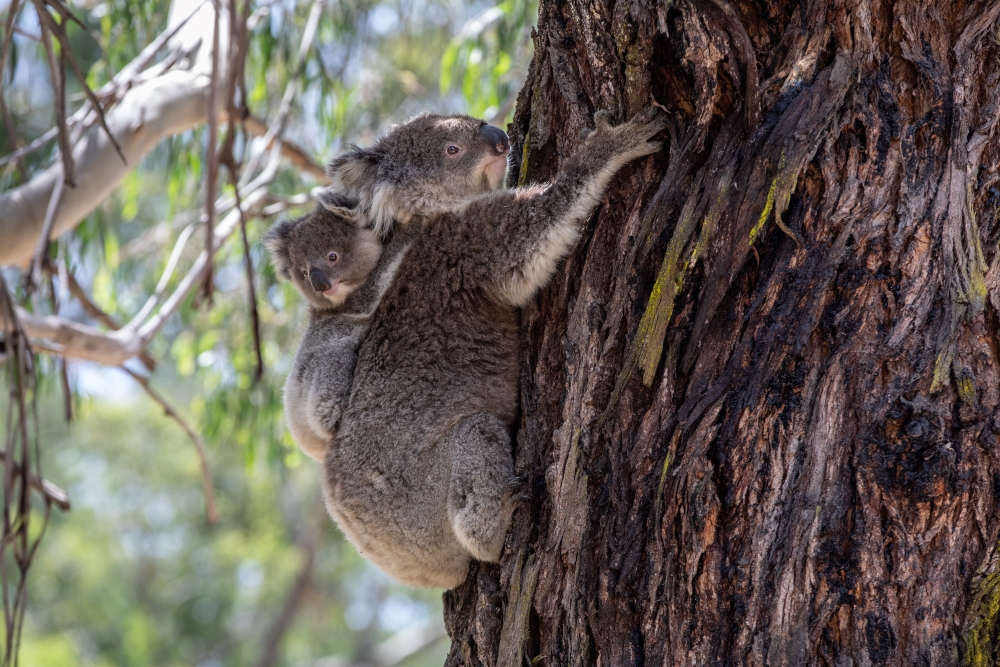 Have your say on the new draft Victorian Koala Management Strategy
Over the past three years, DELWP has been working in collaboration with a group of diverse partners and stakeholders including Traditional Owners, scientists, vets, animal welfare organisations, wildlife carers, the plantation timber industry, Zoos Victoria, Parks Victoria, Phillip Island Nature Parks and other government agencies to develop a new draft Victorian Koala Management Strategy.
Once finalised, the Victorian Koala Management Strategy will replace the 2004 Koala Management Strategy. It will be a state-wide strategy that will inform long-term approaches to koala management with the objective of ensuring that Victoria's koala populations and habitat are secure, healthy and sustainable. The strategy will outline the vision, goals, issues and actions for the conservation and management of Victoria's koalas into the future.
We are now seeking feedback from the Victorian community on the draft Victorian Koala Management Strategy via Engage Victoria. The feedback received during the public consultation period will help inform the final strategy and will shape how koalas are protected and managed in Victoria. The public consultation period will run from 21 February 2022 until 3 April 2022.
To download a copy of the draft strategy and provide your feedback please visit the consultation page at: http://engage.vic.gov.au/VKMS.
2004 Victorian Koala Management Strategy
The current Victorian Koala Management Strategy was released in 2004 and was prepared after consultation with community groups and relevant state government agencies.
The aim of the strategy is to ensure that viable wild populations of koalas persist throughout their natural range wherever suitable habitat occurs in Victoria. A copy of the 2004 Victorian Koala Management Strategy can be downloaded here:
Victorian Koala Management Strategy (PDF, 1.7 MB)
Victorian Koala Management Strategy (DOCX, 706.5 KB)
The strategy addresses key issues affecting koala populations in Victoria, including monitoring populations, managing genetic diversity, managing captive, sick and injured koalas and managing over-browsing.
Koala abundance model for Victoria
Scientists from the Arthur Rylah Institute for Environmental Research (ARI) have developed the first state-wide koala abundance model for Victoria.
The model produces state-wide and regional estimates of koala abundance for Victoria. The model estimated a state-wide koala population of 459,865, with an estimated 412,948 koalas in native forest and woodland and a further 46,917 in eucalypt plantations.
The estimates produced by the model will be used to inform actions under the new Victorian Koala Management Strategy, which is currently being developed (see above for more information).
The full report on the koala abundance model is available below, along with a fact sheet that summarises the findings.
You can help
You can help koalas by improving the habitat on your property. Koalas need many healthy mature trees for food and shelter.
Be aware of road signs indicating koalas are in the area and slow down. Koalas may be moving along the road. Be especially careful at dawn and dusk when visibility is poor and koalas are likely to be moving between trees.
If you do see koalas or other wildlife when you are driving, be careful and give them plenty of time to move off the road.
Take care with your dog. Unrestrained dogs can harass and injure wildlife.
Please report sick or injured koalas to the nearest wildlife shelter.
You can call our Customer Service Centre on 136 186 for contact details of wildlife rehabilitation organisations in your area or use the Help for Injured Wildlife tool to find a wildlife rehabilitator in your local area.
Koala facts
Page last updated: 21/02/22