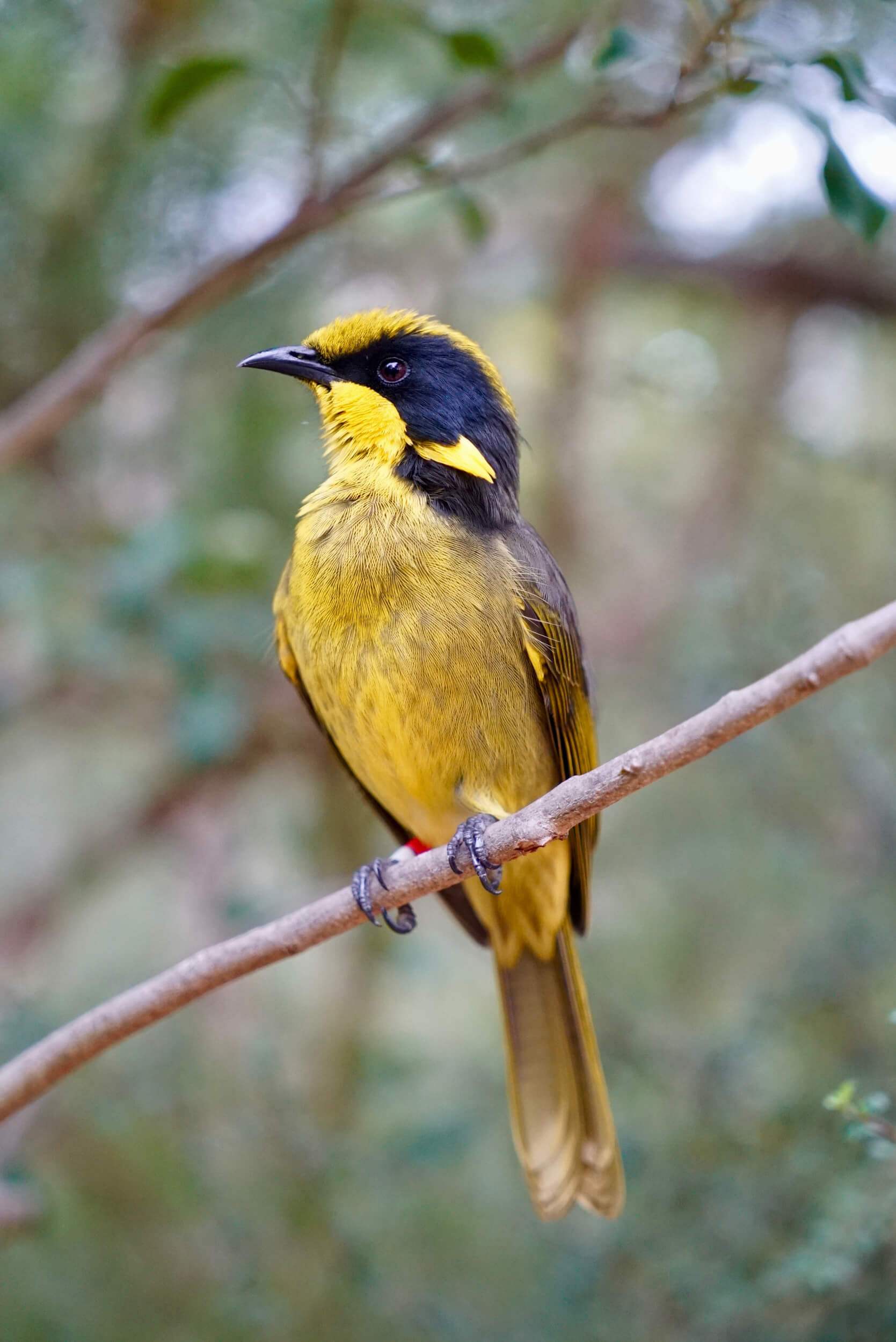 The release to a new location in Yarra Ranges National Park, which includes captive-bred birds from Healesville Sanctuary and wild birds from nearby Yellingbo, marks a major milestone for the Helmeted Honeyeater Recovery Program.
Since 1989, the combined efforts of the Victorian Government and a host of conservation partners has prevented the extinction of this charismatic bird, and seen the last remaining wild population at Yellingbo grow from just 50 birds to 250.
Recently, selected birds were trapped by an expert team led by DELWP Senior Ornithologist Bruce Quin at Yellingbo.
These birds were transported to the new site 30km away near where the Yarra and O'Shannassy rivers meet.
This site was purchased by the Judith Eardley Save the Wildlife Association - a community organisation - and is now managed by Parks Victoria.
Friends of the Helmeted Honeyeater has revegetated the site in preparation for the new residents.
The birds from Yellingbo joined 14 birds that that were bred at Healesville Sanctuary at the O'Shannassy site.
DELWP has contributed $60,000 through its Faunal Emblems Program to support this translocation.
The Federal Government has also contributed funding to Zoos Victoria to establish the new Helmeted Honeyeater population.
Along with the Leadbeater's Possum, the Helmeted Honeyeater is one of Victoria's Faunal Emblems.
The Victorian Government has invested almost $4 million in the Faunal Emblems Program since 2018. The program received an additional two years' funding through the 2021 Budget to support conservation outcomes for these two species.
Zoos Victoria Threatened Species Biologist Dr Dan Harley credited this year's release to teamwork.
"The success of the Helmeted Honeyeater program reflects good science and strategy, combined with partnerships and persistence," Dr Harley said.
"Several strong years of breeding success at Healesville Sanctuary, combined with the highest number of birds ever recorded at Yellingbo, has meant we could establish this new population at O'Shannassy. It greatly strengthens the long-term survival prospects for this species."
Dr Harley said the Helmeted Honeyeater has been confined to one location in Yellingbo, making it vulnerable to extinction.
This new population is an urgent recovery priority to provide risk-spreading against bushfire, he said.
Tiny transmitters have been fitted to each bird released so they can be monitored.
Supplementary food will be provided at the new location.
If successful, additional captive-bred birds will be released at the site in autumn 2022.
The Helmeted Honeyeater Recovery team - DELWP, Parks Victoria, The Friends of the Helmeted Honeyeater, Port Phillip and Westernport CMA, Melbourne Water, Trust for Nature, Birdlife Australia, Greening Australia, local councils and universities, and Zoos Victoria – is working together to save this iconic bird from extinction.
Page last updated: 07/09/21