What is happening?
The Gippsland Lakes are home to the Burrunan dolphin (Tursiops australis) which are primarily found here and in Port Phillip Bay. In recent years, the population in the lake system has numbered around 65 individuals.
In spring of 2020, individual animals were reported as being in poor condition and having significant ulcerative lesions and discoloration of their skin. Sightings of compromised animals continued over the summer period. Eight dolphins exhibiting these symptoms have been found dead since October, although more deaths may have occurred without a carcass being located.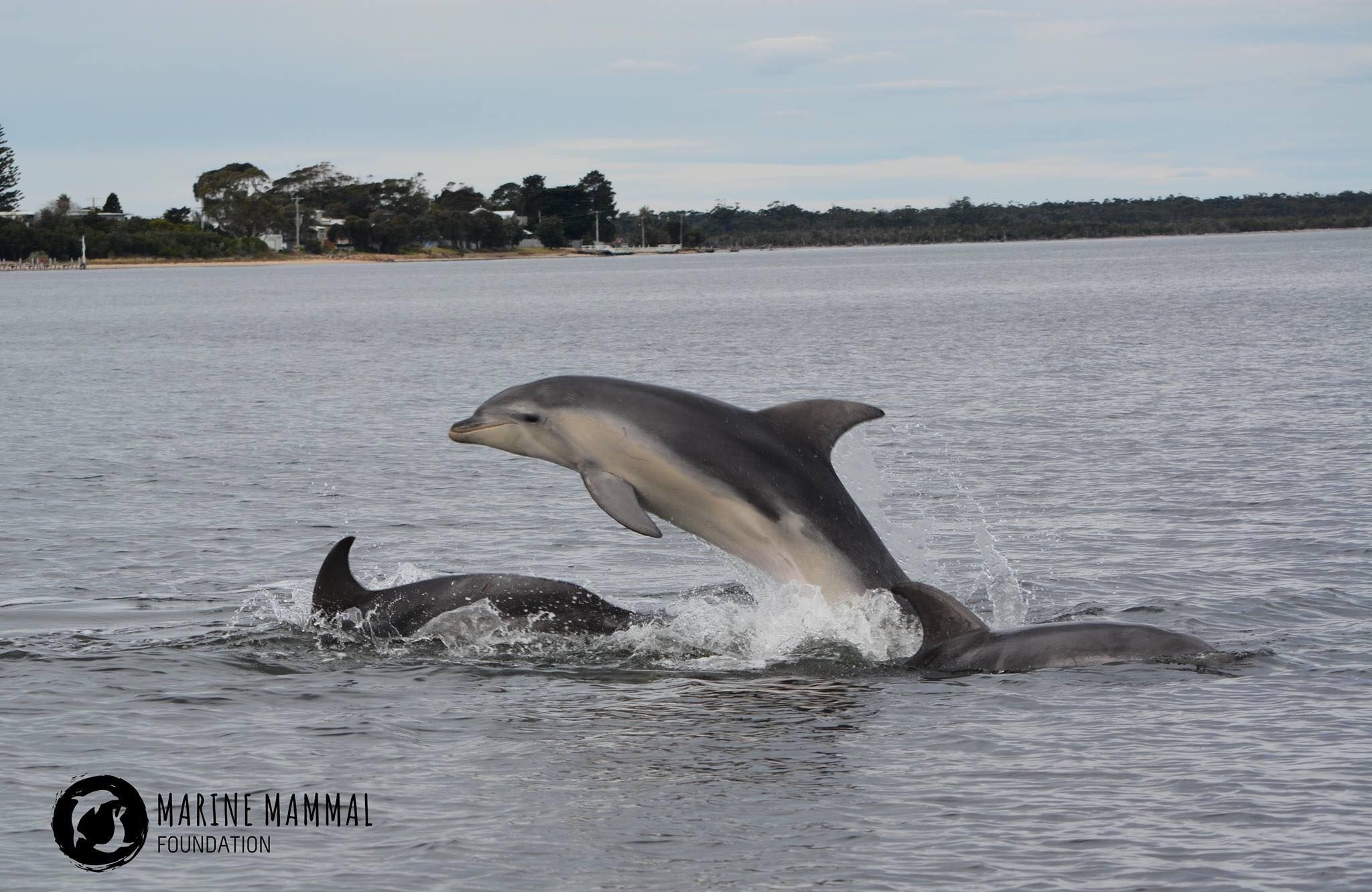 Image courtesy of the Marine Mammal Foundation
What is the cause?
It is believed that this is linked to decreased salinity in the dolphin habitat as a result of increased inflows of fresh water following heavy rainfall. There have been other cases of this disease around the world after extreme weather events. Many of these animals don't leave the Gippsland Lakes which means they are susceptible to significant changes to water quality.
What is being done about it?
DELWP has convened a working group of relevant stakeholders including land managers, traditional owners, specialist veterinarians, the Catchment Management Authority (CMA), researchers and wildlife emergency and cetacean specialists to understand what is happening to the dolphins and to consider if any intervention can be undertaken to improve their health.
Monitoring
Supported by the CMA and DELWP, the Marine Mammal Foundation has continued to survey this dolphin population over the summer period and throughout 2021. They have been undertaking this work since 2006 and have a deep understanding on the population, individuals within it and their condition. These observational studies will allow us to monitor the health of the dolphins over coming months.
Can veterinary assistance be provided to the dolphins?
It has been determined that veterinary treatment of individual animals is not possible. Individual animals could only be treated if they were caught, transported and kept in captivity which would be a health risk for the dolphins and not possible to do with so many dolphins affected.
It's also not feasible to euthanise severely affected animals in the water. This would be too much of a risk to the dolphins and to the veterinary and wildlife staff involved.
What if a sick animal strands on a beach?
The DELWP is the lead agency for responding to dolphin and whale strandings and entanglements and will respond to live stranded animals as a priority. These animals will undergo a veterinary assessment to determine the most appropriate response action, which may include euthanasia if the animal is not expected to survive.
What else is being done?
Where dolphin carcasses are located in accessible locations and are not excessively decayed , they will be sent to the University of Melbourne Veterinary Department for necropsy. This will involve an examination of the animal, its organs and its skin and blubber by specialist veterinary pathologists. This will help to develop a greater understanding on the impact this disease is having on these animals.
Are the animals getting better?
Over autumn 2021, individual dolphins were identified as having reduced symptoms associated with this disease. This has corresponded with an increase in the salinity levels of the Gippsland Lakes system. Both the condition and number of dolphins and the salinity of the lake system will continue to be monitored.
How can I help?
If you are on or around the Gippsland Lakes and you see a dead dolphin or a live stranded dolphin please report it immediately to the Whale and Dolphin Emergency Hotline 1300 136 017, with the location, date, time and number of animals.
Don't go too close or touch the animal, whether it's alive or dead as you could compromise sampling and subsequent testing.
Please remember to follow the Wildlife (Marine Mammal) Regulations and stay at least 100 metres away from dolphins if you're in a powered or unpowered vessel, and at least 300 metres if you're on a jet ski.
Page last updated: 12/07/21